Firstly, the definition of dwelling" is a unit of residential accommodation which has either single person or family occupancy but with no more than six people. The word dwelling does not include properties such as flats or apartments.
Flats / Apartments are classified as a "building other than a dwelling house". It is important then, to note, that should you have a development / or building project where windows are being fitted to flats or apartments then it is covered by Building Regulation B, Volume 2 NOT Volume 1.
Where are Egress Windows required?
Ground floor dwellings
All habitable rooms, but not kitchens or bathrooms which open directly into a hallway and lead to the main entrance door do not require egress windows, however egress windows may be fitted if the customer or architect should want them. In this case the window must comply with the egress specification stated in the approved document. Egress windows will be required however for any "inner" rooms where egress is not directly to the main exit door. In other words most bedrooms and the first floor or a house.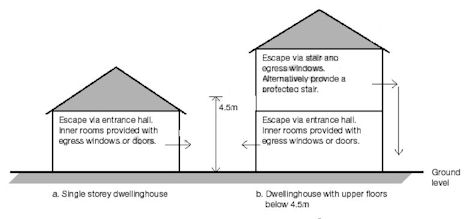 Upper Floor Levels no more than 4.5m Above ground level:
All habitable rooms (not kitchens) within the upper storey of a dwelling which has only one stairwell must have egress windows fitted in compliance with the Building Regulation unless that stairwell is protected in which case no egress window will be required. Using an Egress window that is over 4.5m above ground level is not viable as it is unlikely that if a fire should occur that the occupants will jump through and out of the building at such a height. Therefore the Part B approved document states: -
"The dwelling may either have a fire protected stairwell or the top storey of the dwelling is separated from the lower storeys using fire resistant construction materials and provide an alternative escape route leading to the main door. If the dwelling has more than one stairwell which are separate then this is deemed as an alternative means of escape and therefore the ruling above for floor levels above 4.5m need not apply."