So you have selected the best profile for your windows, they have been manufactured to the highest standards using the best locking system, gaskets and most efficient glass. The final stage is the fitting the windows in to your home. In my opinion this is were customers are most critical.
The unprofessional removal of old window frames can damaged external render and brickwork, Internal plaster and tiling as well as expensive wall paper and paintwork that could cost thousands to repair.
Subversively bad fitting of windows can leave them drafty and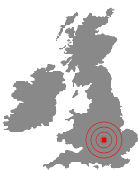 leaking with badly finished mastic lines.
It really breaks down into 3 main categories of Double glazing firms: -
National Companies
Large Local Companies
Small one man bands
National Window Companies
The fitting from large national companies like Anglian, Everest and coldseal can be very hit and miss. These double glazing firms are setup to sell as many windows as they can. I have seen some very good fitting and some very BAD fitting. Remember that when these fitters turn up it is the first time they are seeing the property, they didnít survey the windows and are paid per window or a percentage of the overall job value. Because of this the quicker they can fit the windows and move on to the next job the better, they are not interested in recommends The only real way to be happy with the fitting from a national company is to have retained enough of the