How are double glazing prices calculated
Before we look at how much new windows are going to cost we have to look at what makes up the final price. Below i have listed some of the main costs attributed with the installation of new windows. Not all of costs apply to all quoted but need to be considered. You may not agree with these costs but trust me they are all genuine cost associated with a successful double glazing company that wants to be around to service the 10 year guarantees they give with their windows.
Material Cost
Fitting Costs
Survey Costs
Transportation / Delivery
Sales Commission
Showroom / Offices / Depot
Fensa / Certass
Insurance backed guarantee
Profit
The larger the window companys the more over heads it has to cover but usually have more buying power which brings the material costs down.
Also remember that prices include special offers such as 50% off, Buy one get on free, window scrapage schemes etc, these have to be paid for.
What prices should i expect to pay for new double glazing?
This is a very difficult question I am going to pick a few examples to give to a rough idea to the prices you may pay. Remember that the more complicated the installation of more elaborate the windows this will increase the price and can add quite a considerable amount
A good quality window fitter and his mate can usually fit 3-4 windows in a day, depending upon size and which floor they are on, doors usually take up to half a day french or patio doors a little longer. Any quicker and i would look very closely as the installation before handing over that final cheque.
Price Examples
I have included some example prices from there cost material price to final installation price to give you some idea of how much new windows or doors will cost you.
Example 1
A Back door 900mm x 2100mm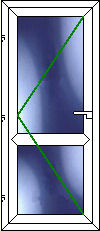 Door Cost £250
Fitting Cost £100
Commission £50
Profit £50
VAT £90
Total Cost £540
Example 2
Small Windows 600mm X 900mm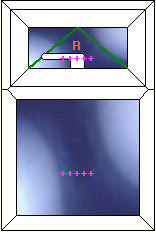 Door Cost £80
Fitting Cost £60
Commission £30
Profit £30
VAT £40
Total Cost £240
Example 3
Large Window 1800mm X 1200mm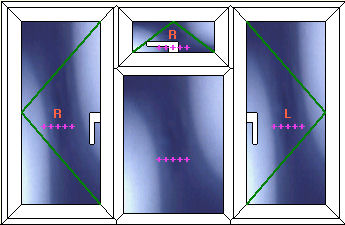 Door Cost £200
Fitting Cost £60
Commission £40
Profit £50
VAT £70
Total Cost £420
What things should you look for in a new windows?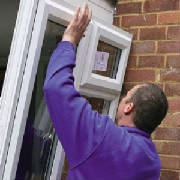 There are a few things you should look out for when choosing new windows. below are a few things that are important parts of a double glazed windows
PVC Profile
Reinforcing
Energy Efficient Glass
Locking System
Furniture
Fully Welded
Internally Glazed
You should also make sure that any company you choose to fit you windows offers and insurance backed 10 year guarantee, is a member of FENSA or CERTass. You may also like the added security of using a DGCOS (Double Glazing Ombus man Scheme) member.
You may decide on one of the large national windows companies or a small local installer which ever you choose make sure you see examples of the work they have carried out, look at a sample of the window they intend to install and any recommendation from friends or family or also worth using.