There are many different types of windows manufactured in the UK for many different uses. Some properties suite casement windows and some vertical sliders. There are many installation that must use one style of windows due to other properties in the area, planning laws or fire escape regulations were as in many cases it is possible to convert on style to another. Weather you choose open in or open out, top hung or side hung it is worth deciding which type of new windows would suite your property of design requirements for getting quotation as some windows cost a lot more that other types.
Below I have detailed some of the major types of designs and best application.
.
Casement Windows
This is the most popular type of window installed in the UK also the most cost effective. They come in many styles and designs
Side Hung

Can be either left of right hung and more than one can be used in one window. They come as standard with friction stays but can also be made with egress fire escape, easy clean or child restrictor
Top Hung

Same as the the side hung but you can not put egress fire escape hinges on top hung windows, so remember to achieve fire regulations the windows much be over 900mm high
Usually used in kitchens or bathrooms but also quite popular as a top hung over fixed for replacement of vertical sliders
Tilt & Turn Windows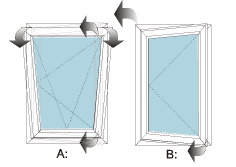 Originally manufactured for the European market especailly Germany they have limited uses in the UK. They are open in and because of this less desirable
They have very clever gearing allowing on position of the handle to tilt the window towards you and another position open the window inwards like a side hund.
One advantage of this type of window and they allow larger windows with larger openers and glass areas, plus gives better openings for fire escape.
Fully Reversible Windows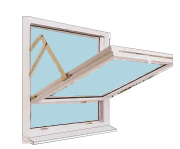 An outwardly opening window that swings upon the hinge axis and rotates outside of the frame, this brings the outside pane for glass to the inside. This allows the glass to be cleaned without leaning out of the window.
These type of windows are usually installed in high rise buildings especially in the north of England and Scotland.